Examination Results
Results 2021
The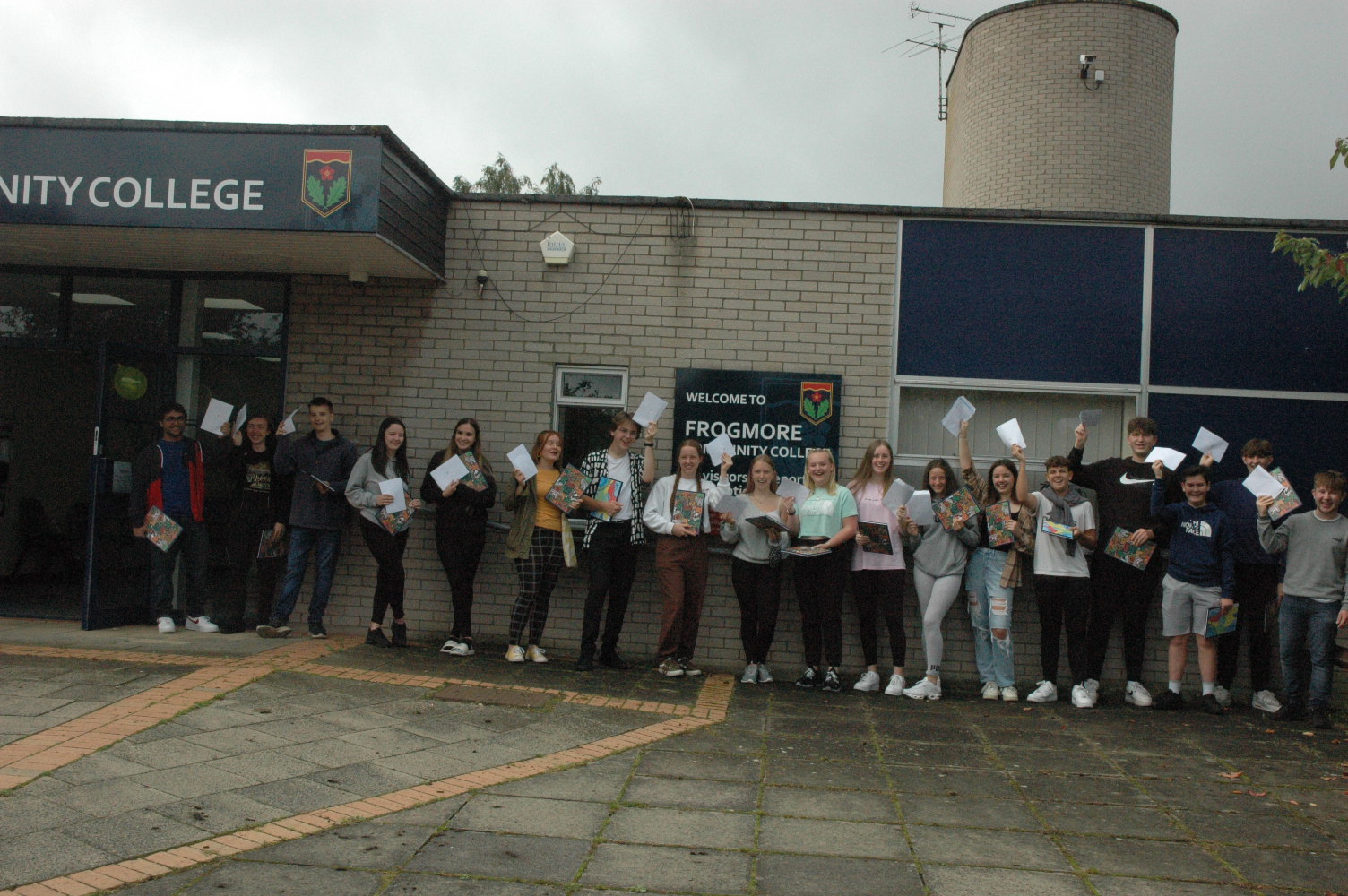 GCSE results of the class of 2021 represent the culmination of 5 years' worth of dedication and study. We are delighted by the outcomes that our students have achieved across the full range of subjects here at Frogmore Community College.
These results are particularly impressive in the context of the disruption, caused by the pandemic, to their education over the past 18 months. The resilience and tenacity that our students have shown, especially through the gruelling period of assessment between March and May, will stand them in great stead as the embark upon the next steps in their journey. We are immensely proud of them all for the way that they rose to the challenges, time and again.
A big part of the success for this cohort is down to the immense hard work of teachers and support staff throughout the past year. Whether it has been adapting to online learning, maintaining provision in school for our most vulnerable, or developing fair and accurate methods of assessment in lieu of exams, the staff here at Frogmore have gone above and beyond to do the best they can for the students. The support of parents, carers and the wider community has buoyed us in this mission and for this we are highly grateful.
Today is a day for celebration. These qualifications open doors for our students and they can take their next steps with confidence and pride in all that they have achieved.
RESULTS 2021 GALLERY
Exam Results Overview
School accountability measures changed significantly in 2016, so that schools are now required to publish the following information: 'Progress 8', 'Attainment 8', 'Basics' and 'E-Bacc', all of which can be seen in the table of examination results below.
These measures are explained below the table. We have included the % of students who achieved five or more 9-1 or A*-C including English and maths in order to allow for historical comparison.
| | | | | | |
| --- | --- | --- | --- | --- | --- |
| Measure | 1. Progress 8 score | 2. Att 8 Score | 3. % Basics 4+ | 4 % Basics 5+ | 5. % Ebacc |
| 2021 | N/A | 53 (TBC) | 76 | 55 | 31 |
| 2020 | N/A | 50.1 | 72 | 49 | 24 |
| 2019 | 0 | 44.3 | 68 | 41 | 23 |
| 2018 | 0.26 | 47.1 | 79 | 39 | 23 |
| 2017 | 0.1 | 46.7 | 70 | 43 | 20 |
| 2016 | 0.2 | 52.14 | 77 | - | 18 |
| 2015 | - | - | 71 | - | 16 |
| 2014 | - | - | 75 | - | 24 |
1. Progress 8 score. This aims to capture the progress a pupil makes from the end of primary school to the end of secondary school. It is a type of value added measure, which means that pupils' results are compared to the actual achievements of other pupils with the same prior attainment.
2. Attainment 8 score. This measures the achievement of a pupil across 8 qualifications including maths (double weighted) and English (double weighted), 3 further qualifications that count in the English Baccalaureate (EBacc) measure and 3 further qualifications that can be GCSE qualifications (including EBacc subjects) or any other non-GCSE qualifications on the DfE approved list.
3. Basics 4+. This is the % of students who achieve a grade 4 (or before 2017, C) or above in both maths and English (either literature or language).
4. Basics 5+. This is the % of students who achieve a grade 5 or above in both maths and English (either literature or language).
5. EBacc. This is the % of students who achieve a grade 4 (C) or above in the following suite of academic qualifications: English, maths, 2 sciences (including computer science), either history or geography, and a language.
School Performance Tables
Additional information and data about the school's performance can be found in the Department for Education Performance Tables and can be accessed by clicking the link below:
GCSE Results 2019
We could not be more proud of our students. Every member of the class of 2019 should feel rightfully pleased by their achievements. Behind every grade achieved in this summer's results lies a story - a story of hard work, commitment and resilience.
Outcomes across the board remain healthy, with particular success in certain subjects. Achievements in maths and English continue to be strong, with almost 70% of the cohort achieving a pass in both subjects. We were particularly pleased by the increased number of the highest grades in a range of subjects; biology, German, geography, PE and physics all saw a significant rise in the proportion of students achieving a grade 7 or higher.
As always, there were some stunning individual achievements. Cameron Church and Hannah Lilly both attained an armful of top grades. Cameron's 6 grade 9s is a record for the school! However, the successes do not end there; so many students have exceeded expectations and some have overcome significant challenges to do so. It is knowing the individual story behind every set of results that matters most to us and that gives us such reason to celebrate.
Well done to the entire cohort for a smashing set of results. It was a privilege for us to work with the class of 2019 and we are incredibly proud of the superb young adults who now make their way into the world. We wish them all every success in the next stage of their journey.
PHOTO_GRID_{RESULTS_2019}_FOLDER