Humanities
Faculty Leader: Miss A Bruce
Assistant Faculty Leader: Miss M Peear
All students at Frogmore study history,
geography and RE throughout key stage 3 and a large proportion continue to GCSE in at least one of the disciplines. RE is studied by all students in KS4, with students completing a short-course GCSE in the subject in year 10. As a faculty we strive to help students develop a curiosity about the world, its people and its past, which will last a life time. We embrace this philosophy and constantly adapt lessons in response to the dynamic world in which we live. Independent skills and team work are actively encouraged, all the while focusing on developing a secure knowledge base and the ability to express this with confidence and clarity.
History
History Subject Leader: Miss A Bruce
Key Stage 3 History – In years 7, 8 and 9, history is about introducing students to a range of different periods and cultures. Whilst we focus on British history from 1066 to today we also take the opportunity to consider topics such as life for Native Americans on the Plains and the rise of Hitler in Germany. During the three years, we maintain a focus on historical skills so that students are able to grasp for example, chronology, causes, consequences and historical interpretations.
Key Stage 4 History – At GCSE we study the Edexcel qualification. The units we follow are Anglo-Saxon and Norman England, the American West, Medicine through Time and Weimar and Nazi Germany. We feel these topics give us an opportunity to look at an interesting range of periods and events. We build on the skills developed at Key Stage 3 in order to ensure that students can understand why and how societies change both over decades and centuries.
Geography
Lead Teacher: Mrs A Fielding
The Curriculum at Key Stage 3:
In years 7, 8 and 9, geography is about creating a fascination in the world in which we live. Our very first topic in year 7 is called 'Amazing Places', and gives students a taste of what they'll be learning over the next 3 years. Throughout the 3 years we study a range of physical and human topics. Incorporated into these are key skills which are vital for students within geography and for their future. These include decision making, data interpretation and analysis, fieldwork, map and graph skills.
The Curriculum at Key Stage 4: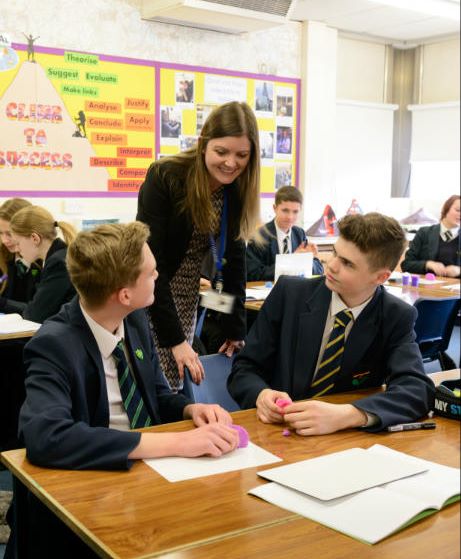 We study the AQA GCSE specification. Within this course we study geography in a balanced framework of physical and human themes and investigate the link between them. Students explore case studies in the United Kingdom (UK), high income countries (HICs), newly emerging economies (NEEs) and low income countries (LICs). Topics of study include: climate change, poverty, deprivation, global shifts in economic power and the challenge of sustainable resource use. Students are also encouraged to understand their role in society, by considering different viewpoints, values and attitudes.
Subject Enrichment:
We run a range of field trips giving students the opportunity to see what we're learning outside the classroom. Information on each trip is sent to parents via ParentMail.
Religious Education
Religious Education Subject Leader: Miss A Bruce
The Curriculum at Key Stage 3:
In years 7, 8, and 9 RE is about introducing students to the six major religions and worldviews. The focus is on beliefs and practices in order to develop critical thinking skills and the understanding of the "other" in order to know ourselves.
The Curriculum at Key Stage 4:
At GCSE we study the AQA qualification. The units for this are Christianity, Buddhism, Family and Relationships and Peace and Conflict. These topics allow for an in-depth study of two major religions and their ethics concerning society today.
For more detailed information about the curriculum for every year and how parents can support, please see the following curriculum maps:
Further information: